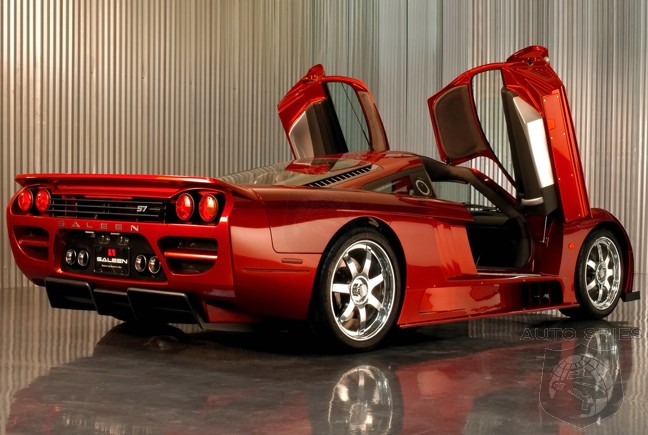 Look at what we have here. If there's one thing I didn't think I'd see, it would be Saleen Automotive producing an electric vehicle.
Not because it isn't capable — remember, this is the brand that created the outrageous S7 — but because it doesn't seem to be its cup of tea. This is the company known for souping up Mustangs and other muscle cars. An electric, really?
It's pretty clear in the press release that the organization is forward thinking as it freely admits that EVs are here to stay and "not a fad."
What strikes me though is the CEO, Steve Saleen's, comments about this all-new EV being unlike anything in the marketplace. That's a very bold claim when we have the likes of the all-new McLaren P1, Porsche 918 Spyder, BMW i8, etc.
This, of course, raises another unanswered question: Will Saleen's vehicle be a plug-in or a hybrid? Perhaps something else?
All that said, we're ready and listening for more information that's said to come in early 2014. Let's cross our fingers for a 2014 Detroit Auto Show announcement.
Saleen's press release follows:
Saleen Automotive Confirms Electric Car Project in Development
CORONA, Calif. — Saleen Automotive, Inc. (OTCQB: SLNN), (OTCBB: SLNN) (the "Company"), an American specialty manufacturer of high performance vehicles, technical performance parts, lifestyle accessories and apparel, is pleased to confirm that the Company is currently in development to produce an electric vehicle for eventual distribution and sale.
"We recognize that electric cars are a trend, not a fad and expect this vehicle category to continue to increase as an automotive option for consumers," stated Steve Saleen, CEO, Saleen Automotive Inc. "We intend to enter this market with an offering that is truly innovative and offers the styling and craftsmanship associated with the Saleen Automotive brand. The rapid pace of advancements in electric vehicle technology makes our entry into this market sector timely and should expedite completion of this project."
Saleen Automotive plans to update the financial and automotive media in early 2014 with the public release of scale models of its new electric vehicle project.
"I'm not prepared to give all the details of our electric vehicle project yet but I can tell you that it is unlike anything currently in the marketplace," added Saleen. "Throw out your pre-conceived notions and expectations. This vehicle will be revolutionary in its aesthetics and mechanics. Stay tuned."
More autospies.com