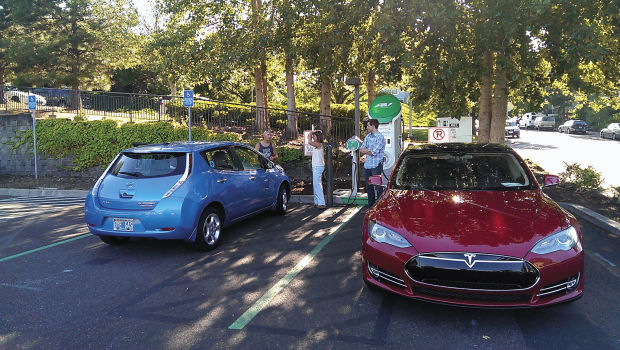 Ashley Horvath, Oregon's Chief Electric Vehicle Officer, stands between two drivers at a charging station in Hood River. The photo features a Nissan Leaf alongside a Tesla at the West Coast Electric Highway charging station. Reedsport, Elkton and Coos Bay should be getting their own charging stations within a year.
5 hours ago • By Steve Lindsley, The Umpqua Post
(0) Comments
Reedsport and Elkton should become part of the West Coast Electric Highway in the next year, as the Oregon Department of Transportation continues to place electric vehicle charging stations around the state.
The two cities are part of the second phase of a project to place charging stations. Other cities slated to be added include Coos Bay Aurora, Madras, Redmond, The Dalles and an Interstate 5 exit near Salem.
Ashley Horvat, Oregon chief electric vehicle officer, said the Reedsport and Elkton stations will join existing stations in Astoria, Cannon Beach, Florence, Lincoln City, Newport, Tillamook and Yachats along the coast.
"We applied for a grant to extend the West Coast Electric Highway past the I-5 corridor to be able to extend the range of electric vehicles, which are about 100 miles," she said. "It further bolsters the idea of actually switching from a gas-powered vehicle that can take you to the coast to an electric car, because now you can make it to the coast, the gorge; whether you live in Portland or Eugene."
Horvat, who did the interview while on the road in her electric Nissan Leaf, said the new stations should be in place in the next year.
"We have until July of 2014," she said. "We have up until summer of next year. We're already well underway. We have 10 more stations left to go. Coos Bay could start in the next couple of months."
The site for a placement of the station is still underway in Reedsport. Horvat said they've considered sites in the parking lot near Dairy Queen and Price 'N Pride, a site near the Umpqua Discovery Center and a site near the Reedsport Bedrock's.
More theworldlink.copm