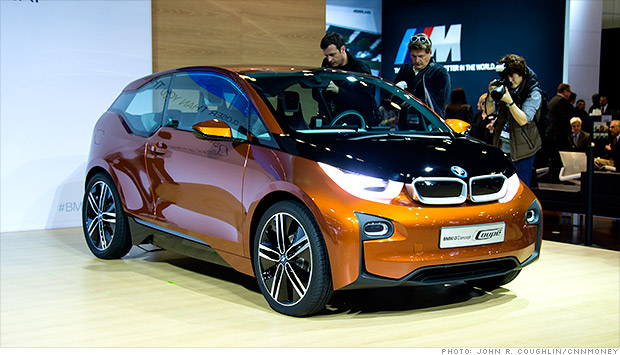 Until just recently, Elon Musk's Tesla had the market for electric luxury cars all to itself. It was building some 400 units a week of the Model S at its factory in Fremont, Calif. and selling them for upwards of $90,000 apiece. Early adopters raved about the sedan's style and performance, while Tesla went public and became a furious growth stock.
That's all about to change. A new competitor has arrived on the scene that has had considerable past success in selling to upscale customers: BMW. It has begun the global launch of the all-electric i3 that will begin reaching U.S. customers in 2014. Initial reviews of the car have been close to rapturous, with test drivers declaring that the i3 "drives just like a true BMW."
For now, Tesla (TSLA) and BMW aren't competing head-to-head. The Model S is a seven-passenger luxury touring car while the i3 carries just four passengers and is designed for quick trips around town. But as Tesla fills out its product line with less-expensive models and BMW rolls out the sporty i8 hybrid-electric coupe to go after high rollers, the automakers will increasingly be targeting the same customers.
To get an early sense of how the two sides will stack up — and how other automakers might be affected — here's a report card on the two companies.
1. History
Tesla has already become the most successful automotive startup since World War II, seeming to have simultaneously mastered the arts of design, engineering, and manufacturing. Musk, its co-founder and CEO, has forged a remarkable track record as an entrepreneur, having started three successful companies. His record at Tesla, however, is short, and he has not managed the company through a downturn.
BMW, which didn't get seriously into the auto business until after World War II, is the world's largest producer of luxury performance cars, and has a consistent history of success and growth. Although it is new to the world of electric cars, it is open to change (1-series, MINI) and has been testing alternatives to the internal combustion engine for more than a decade.
Advantage: BMW
2. Products
While the size and price of the Model S make it impractical for most people, it has been successfully launched, and Tesla expects to sell 21,000 of them this year at prices starting at $72,000 before any federal tax credit. If it succeeds, it would equal the combined volume of Jaguar, Bentley, Maserati, Lamborghini, and Rolls-Royce.
BMW's i3 is a tall compact hatchback that has two full front doors and two rear half doors, which makes it the strangest-looking car the company has sold since the three-wheeled Isetta of the 1950s. BMW will have the capacity to make 40,000 i3s at prices that start around $43,000, but until it actually starts production, the appeal of the car remains unproven.
Advantage: Tesla
Inside BMW's design lab
Inside BMW's design lab
3. Range
More cnn.com