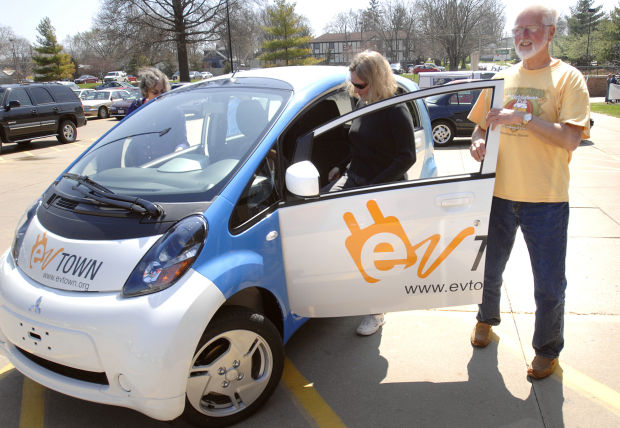 Peter Schuetz of Normal emerged from a Mitsubishi "i" electric car after taking it for a test drive in April 2010 at Illinois Wesleyan University. (The Pantagraph, David Proeber)
6 hours ago • By Kenneth Lowe | klowe@pantagraph.com
(6) Comments
Related Links
Business News
NORMAL — Nationwide electric car sales have been sluggish in recent years, but the Twin Cities are leading the country in adopting the new technology.
A concerted effort on the part of local government and aggressive deals on leases at O'Brien Mitsubishi in Normal have put more than 200 electric vehicles on Twin City streets. That combined effort has also made the dealer's electric vehicle sales Mitsubishi's highest in the country by population, said Ryan Gremore, dealer principal. The dealer has sold 178 of Mitsubishi's all-electric "i" since the model was introduced last year.
Part of that success has hinged on how viable electric cars are for local driving, Gremore said. There are at least 55 public charging stations in Bloomington-Normal, all currently free to use under a federal subsidy, said Joe Mikulecky, chairman of the Bloomington-Normal EV Task Force. Mitsubishi advertises a 62-mile range before the "i" needs to charge.my mainstream gas car at home and not put miles on it and drive an electric car to work during the week,'" Gremore said. "The community has understood this type of driving."
Education campaigns on the part of the EV Task Force and O'Brien Mitsubishi also helped encourage drivers to pick up electric cars, Mikulecky said. The dealership reached out to the community to talk about its electric vehicle offerings at demonstrations and seminars.
"(We said) 'This isn't a sales special, we just want you to come look at this thing,'" Gremore said. "We spent a year-and-a-half educating the community."
Though the EV Task Force remains short of its goal to get 1,000 electric cars on local streets by 2014, the Twin Cities remain a bright spot for EVs in a nationwide market where they are still marginal. Increasing fuel efficiency in fossil fuel cars and high price points on electric vehicles have meant sales of electric vehicles are only a tiny fraction of car sales nationwide.
More santagraph.com