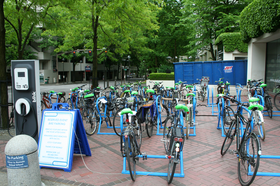 A sea of bikes indicated that, yes, the Portland Employers Bike Summit was underway last Friday. Click through for more pictures from the event.
Last Friday's Portland Employers Bike Summit was very much a Portland-like gathering.
First, attendees heard presentations on the benefits of riding bikes. Then, they hopped on their bikes and visited a handful of bike parking facilities in some of the city's most vaunted buildings.
The Portland Employers Bike Summit was hosted by Regence BlueCross BlueShield of Oregon and featured backing from the Bicycle Transportation Alliance, the Lloyd Transportation Management Association, the transportation website and 'zine Portland Afoot and the Portland Bureau of Transportation. Alta Bicycle Share's Mia Birk detailed the efforts that'll eventually lead to bike-share programs in Portland and Seattle.
About 85 cycling enthusiasts attended the event.
Take a look at the gallery to the right for scenes from the Summit, which was the second such annual assembly of business's biggest biking backers.
Source sustainablebusinessoregon.com