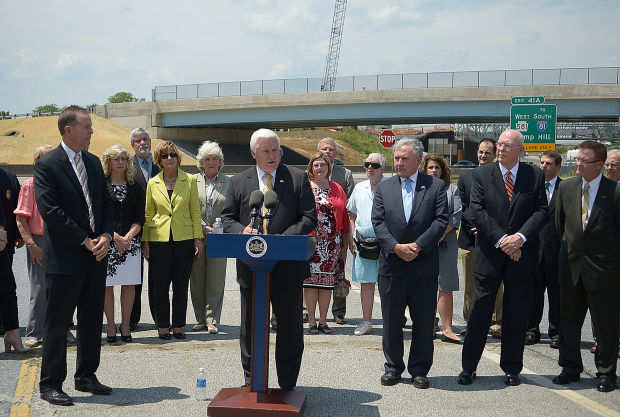 Pennsylvania Governor Tom Corbett, center, holds a press conference at the on ramp to Interstate 83 in New Cumberland on Thursday afternoon to emphasize transportation's impact on public safety.
3 hours ago • Travis Kellar, The Sentinel
(0) Comments
Meet the Reporter
Travis Kellar
Sentinel Reporter
Twitter:
@cumberlink
Facebook:
The Sentinel Newspaper
Google+:
The Sentinel Newspaper
Email:
tkellar@cumberlink.com
Covers:
Mechanicsburg Borough/School District, Cumberland Valley School District, Silver Spring Township, Hampden Township, outdoors
NEW CUMBERLAND — Some of Cumberland County's transportation infrastructure has seen its fair share of wear-and-tear.
Barbara Wilson, chairwoman of the Cumberland County Board of Commissioners, said there are 28 bridges in the county, of which 10 are "top of the list" in terms of needing repairs. Wilson refers to Cumberland County as the "Keystone County in the Keystone State" due to the major roadways that pass through the region. With the three major interstates crossing the county, she stressed the need to fund preventative maintenance, repairs and replacements.
A bill that is currently in the works looks to do just that.
Gov. Tom Corbett held a news conference at the former Brandt Avenue ramp to Interstate 83 northbound in New Cumberland Thursday. PennDOT Secretary Barry Schoch and members of Pennsylvania's General Assembly were also in attendance.
Corbett said there are more than 4,000 structurally deficient bridges in the state. He also said that 1.5 million children ride busses every school day on more than 30,000 busses which travel over deficient bridges.
"As a result … what we're trying to do is improve our system," Corbett said. The answer, he said, is "a long-term, sustainable funding process."
More cumberlink.com