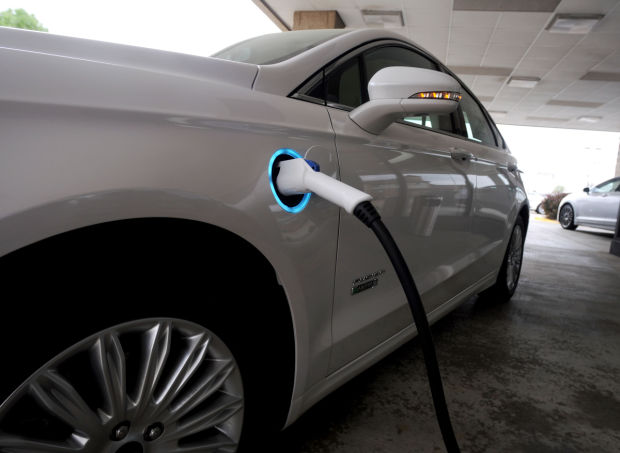 A Fusion Energi is shown plugged in at Vogler Ford on Wednesday, April 17, 2013, in Carbondale, Ill. (Paul Newton / The Southern)
11 hours ago • BY SCOTT FITZGERALD, The Southern
(0) Comments
CARBONDALE — Vogler Motor Co. has made an investment into the future that has necessitated additional specialized sales and service technician training.
Ford Motor Co. recently certified Vogler as the area's only Ford electric vehicle dealership.
And there are electric cars within the inventory for sale -specifically the 2013 Ford Fusion Energi and the 2013 Ford C-Max Energi.
"We feel this is a direction people want to go. And it's in keeping with Green Energy. These are plug-in hybrids," said Vogler Sales Manager Tim Hirsch.
The dealership sold its first model slightly more than a week earlier. More mid-size models have been ordered, he said.
"They are readily available now," Hirsch said, noting the models are priced from $35,000 up to $40,000 with full features.
It's the cost savings in fuel economy that is the attraction point for the new electric vehicles, Hirsch said.
The mid-size Energi models are capable of 100 mpg equivalency, a standard of measurement used by the Environmental Protection Agency to compare energy consumption of alternative energy fuel vehicles with the fuel economy of conventional internal combustion vehicles expressed as miles per gallon.
The vehicles are capable of traveling up to 21 miles on a single-charge, full battery capacity option alone.
"These models have higher battery capacities than hybrids. You plug it in to get the higher surge," Hirsch said.
A likely driving of battery and gasoline engine use translates to 44 miles per gallon in the city and 41 miles per gallon on the highway.
Charging the batteries located above the fuel line in the rear of the vehicle is relatively simple. It can be plugged into a home electric outlet to get fully charged in seven hours or with a quick charging station that can be purchased for $1,500 to $2,000, the charge time can be reduced to two hours, Hirsch said.
More thesouthern.com