First electric car to be made in UK adds to wide choice for green-minded motorists as campaigners sense change in attitudes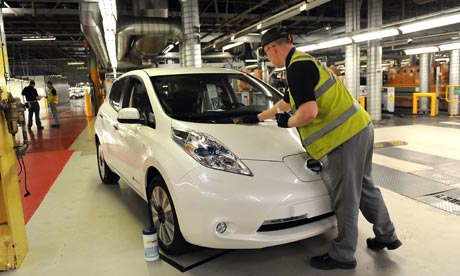 A Nissan Leaf electric car being polished at the carmaker's plant in Sunderland. Photograph: Anna Gowthorpe/PA
Anyone looking under the bonnet of the Nissan Leaf – the Japanese carmaker's all-electric rival to the Ford Focus – could be in for a surprise. With its tangle of boxes and wires, the Leaf's engine seems just like a conventional one – but without the oily grime.
"The weirdest part of the car is how normal it looks underneath," said Lee Twomey, a Nissan sales adviser. Several parts have been deliberately bulked up, to reassure customers used to the weight of a petrol or diesel engine.
The latest version of the Leaf, the first electric car made in Britain, rolled into showrooms across the country this month, taking the range of alternative-fuel cars on the UK market to 36.
This week, the centre-left thinktank the Institute for Public Policy Research urged the government to give drivers of green vehicles free access to car parks, toll roads and congestion charge zones, using a green badge scheme similar to the blue badge for disabled drivers.
Next week, electric cars are likely to get a further boost. The European parliament is expected to approve measures to stoke production of electric cars and other low-carbon vehicles – a significant lift for a mode of transport once derided as fit only for golf buggies and milk carts.
Nissan hopes the new Leaf, cheaper than the old model and with a shorter charging time and longer driving range, will tempt buyers looking for a family runaround.
The Japanese company is betting big on the all-electric car – chief executive Carlos Ghosn has predicted electric cars will make up 10% of global demand for new cars by 2020 – as it positions itself in a marketplace where others, such as Toyota, have already carved out niches making hybrid vehicles.
Politicians are also banking on electric cars. On a visit to Nissan's plant at Sunderland last month, David Cameron praised the Leaf as "the best possible rebuke to those who say we in Britain don't design things any more, we don't make things any more".
The Committee on Climate Change, an independent body which advises the government, wants to see 1.7m electric vehicles on the roads by 2020, if the UK is to meet its greenhouse gas targets.
In a supermarket car park in east London, talk of millions of electric cars zipping around town seems fanciful. Two gleaming charging points have been recently installed, but are cordoned off by plastic barriers – an uninhabited electric island in a sea of petrol and diesel power.
But motorists, fed up with high prices at the pumps, are not against the technology. An RAC poll this week found 50% of drivers would consider an alternative-fuel car and as many as a quarter were likely to make a green car purchase in the next five years – although most preferred hybrid to all-electric.
"I think they are brilliant," said Elise, 31, a hairdresser, who has driven three hybrid cars in the past and would happily buy another one, or an all-electric car. "It wasn't practical any more when I had my daughter," she explained. "The bigger electric cars were expensive and I couldn't afford one."
Peter Simpson, 56, a teacher, sounded less convinced as he carried his shopping back to his Skoda. "It's not that I am interested in driving fast, but what I've heard is that [electric cars] don't go very quickly at all. You obviously have to have places where you can charge them. The idea that you have a cable that comes out of your front drive through your window, it's not a goer is it? There has to be some sort of infrastructure."
Industry experts are also cautious about the claims made for electric cars. Luca Lytton, research manager at the RAC Foundation, does not see electric cars gaining mass appeal by 2020, as the government's climate advisers hope. "That's not because I don't like electric vehicles or think they are good, but there are some real issues that need to be overcome if electric vehicles are going to be a mass-market proposition." The high cost of the cars, uncertainty about the longevity of the batteries, and anxiety about whether the cars can go the distance, would continue to limit the market for all-electric cars, Lytton added.
More guardian.co.uk