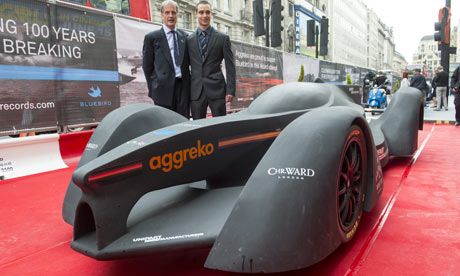 London one of eight cities confirmed as a host for the inaugural Formula E electric car racing series
The Bluebird GTL Formula E concept racing car. Photograph: Paul Grover /Rex Features
London has been officially selected as one of only eight cities around the world to host a race as part of the upcoming Formula E electric car racing series.
The capital beat stiff competition from 23 cities around the world that expressed an interest in hosting one of the 10 races planned for next year. It now joins Rome, Los Angeles, Miami, Beijing, Putrajaya, Buenos Aires and Rio de Janeiro as the selected locations for the inaugural season. Formula E Holdings, the promoter of the FIA Formula E Championship, said two more races would be announced at a later date.
The organiser is now planning to work with each of the selected cities to confirm their feasibility and finalise the calendar for the first season, with a view to signing formal agreements with the host cities by July. The final calendar will then be presented to the FIA for final approval at its World Motor Sport Council summit in September.
"The fact that cities from all over the world are interested in the FIA Formula E Championship is extremely heartening and shows a global commitment to clean mobility and sustainability," said Alejandro Agag, chief executive of Formula E Holdings, in a statement. "The provisional calendar we publish today is composed of cities in America, Europe and Asia. We look forward to also racing in Africa and Australasia from 2015 onwards."
More guardian.co.uk