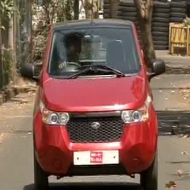 Check out Fiat's Cherokee, M&M's e2o
It is no secret the Indian auto industry is facing its slowest growth in over a decade and new regulations are mudding waters even further. In that context, Indian companies will need to rely on strong brands and innovation to propel them to higher growth.
Mahindra and Mahindra started the Reva Electric car company a few years back, and is now betting its hopes on a four-seater electric car – the e2o.
This car is a compact 4-seater, being 3.3 metre in length, 1.5 metre wide, with a height of 3 metre. It has 100 sensors, and the total cost of ownership equals half that of an equivalent diesel or petrol car. Being an electric car, the carbon footprint is really small.
In December last year, Fiat announced its plans to bring the company's jeep brand down to India. In a run-up to that, Bertrand got an opportunity to get behind the wheels of the 2014 jeep brand Cherokee on its home turf in America (watch video for full report).
More moneycontrol.com