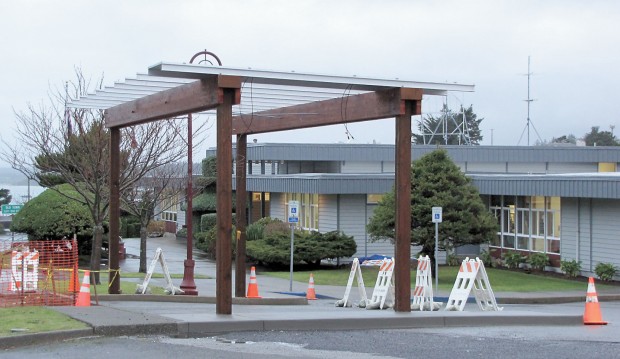 An electric vehicle charging station is being constructed at Bandon City Hall and should be completed by February. Residents without electric vehicles are allowed to park in the spaces as well, according to the city manager.
7 hours ago • By The World
(0) Comments
BANDON — The city's new electric car charging station, scheduled to be completed by November, is now set to be done by February.
The charging station is a carport structure being constructed over the three northernmost parking spaces in City Hall's parking lot adjacent to U.S. Highway 101. The structure will support an array of solar panels on its roof to generate electric power. The solar panels will be connected to the grid to help offset some of the electric utility costs at City Hall and will feature level 1 and level 2 chargers for charging electric vehicle batteries, with a connection for electric wheelchairs and scooters, according to City Manager Matt Winkel.
The total budget for the project is $97,000. It is being funded by a $67,000 grant from the Bonneville Environmental Foundation, a national nonprofit organization that promotes the development of renewable energy resources. The grant will be matched with $30,000 from the City's Energy Conservation budget. Those funds were already designated for energy conservation and energy efficiency projects.
Bonneville Environmental Foundation received and awarded bids for constructing the project. The carport structure was built by Americorp Construction, Inc. from Bandon. The solar array and charging station are being installed by Sol Coast Consulting and Design from Coos Bay. City electric and public works crews are also helping on the project.
'There are no public electric vehicle charging station on this area of the South Coast, so tourist visitors with electric vehicles can often be precluded from coming to Bandon due to the range of their vehicles," Winkel said. 'In addition to accommodating local residents and customers who visit City Hall, the new facility is intended to help promote our tourist businesses by providing a place where electric vehicle owners can charge their vehicle while they are enjoying a meal or shopping."
In addition, by starting with a single installation, the city can obtain experience operating and maintaining this type of facility, Winkel said. Its energy production and usage will be monitored to determine whether it would be cost effective to install solar energy systems and electric vehicle charging stations at other public facilities and additional locations. An information kiosk will be installed in the City Hall lobby and the data from the facility will be available on the Internet for the public and students at Bandon schools to learn more about solar energy and electric vehicles.
Winkel said the spot was chosen because it has the best solar access in the parking lot. Being close to City Hall also means a shorter distance for the electricity to travel getting to the grid and constructing it over existing pavement will not cause negative impacts on drainage.
More theworldlink.com