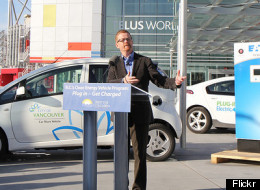 VANCOUVER – Electric car owners in B.C. will get a real charge out of this — the provincial government is spending $1.3 million to set up fast-charging stations in 12 communities.
The stations can give a car an 80 per cent charge in 30 minutes or less, compared to other kinds of stations that require up to eight hours for a full charge.
The stations are being set up in various cities including Vancouver, North Vancouver, Surrey, Whistler, Hope, Merritt, Nanaimo and Saanich.
In announcing the program in Vancouver today, Environment Minister Terry Lake said providing electric vehicle owners with more charging options will make electric cars even more attractive.
The government says setting up the stations will complete the B.C. portion of the West Coast Green Highway, an agreement with three American states to ensure electric vehicle charging is available along the West Coast from B.C. to California.
More huffingtonpost.com