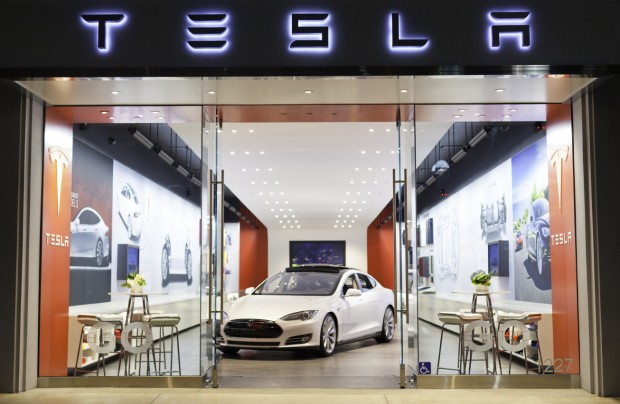 SUBMITTED PHOTO: A Tesla store in Santa Monica, Calif.
9 hours ago • By Lisa Brown lbrown@post-dispatch.com 314-340-8127
2
St. Charles firm LMI Aerospace buying Valent
Enterprise franchises brand in Portugal
CarMax poised to reshape St. Louis used car market
Luxury electric car maker Tesla Motors is pushing the accelerator on growing sales, and is rapidly expanding its network of service centers, including one in the St. Louis area.
University City is one of nearly 20 service centers that the Palo Alto, Calif.-based automaker plans to open in the coming months as Tesla seeks to broaden its appeal beyond Hollywood stars and environmentally chic millionaires.
Tesla leased 3,000 square feet at 8664 Olive Boulevard for a service center that will open by year's end.
The closest service center for Tesla customers currently is about 300 miles away in Chicago. Service centers typically have about 10 employees.
"We are putting our service centers where we'll have cars," Tesla spokeswoman Shanna Hendriks said.
The automaker wouldn't disclose local sales but said it has more than 13,000 reservations for the Model S worldwide.
Customers make reservations for the plug-in electric cars, which can take nine months to deliver. Once production increases, Tesla wants to narrow the delivery time to between three to four months, Hendriks said.
Tesla's first plug-in electric vehicle, the two-door Roadster sports car with a base price over $100,000, was followed by the less-expensive Model S sedan.
The company began deliveries of the Model S in June with a base price of $57,400. That will rise Jan. 1 to $59,900, still a premium price for many car shoppers.
Tesla thinks price hasn't been the only thing holding potential buyers back, and the expanded network of service centers is designed to eliminate one obstacle.
"People will go a considerable distance to buy a vehicle if there's a service center near" where they live, said Jeremy Anwyl, vice chairman of automotive consumer research website Edmunds.com.
Opening the service centers is a necessary step if Tesla wants to expand sales, he said.
Boston, Atlanta, Phoenix and Montreal are among the cities slated to open Tesla service centers as part of the company's push to dramatically increase sales and production. Its vehicles run on lithium ion cells rather than internal combustion engines.
The service centers will join several dozen stores and service centers Tesla has opened in recent years. By March, more than 90 percent of Tesla's Model S reservation holders in North America will be within 100 miles of a Tesla service center, Hendriks said.
Tesla sells its cars through company-owned stores rather than traditional franchised dealerships. Its biggest concentration of stores is in its home state of California, which has an extensive network of electric vehicle charging stations.
Charging stations in the St. Louis area have been slower to arrive but are increasing each year as more electric vehicles are on the roads.
Mass market push
Tesla, founded in 2003, is best known for the eye-catching Roadster, which counts such Hollywood A-listers as Leonardo DiCaprio and George Clooney among its aficionados.
More stltoday.com