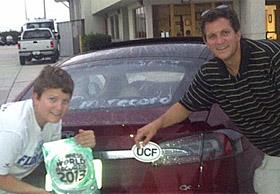 According to the Environmental Protection Agency, Tesla drivers should be able to travel 265 miles per charge in the top-level Model S. According to Tesla, they should hit 300 miles. But last weekend, a Florida college professor recorded the highest-ever range in an electric car: a whopping 423.5 miles without even draining the battery.
David Metcalf, a researcher at the University of Central Florida, decided to take his new Model S on a calculated adventure along the Panhandle. With his 12-year-old son Adam, Metcalf managed 17 nonstop hours before the dashboard flashed "Charge Now." It was a seemingly impossible feat that began as a cocky tweet from Tesla CEO Elon Musk in May, who promised prizes to the first 10 Model S drivers to exceed 400 miles per charge.
So far, Metcalf is the first and only.
"My professional training is in Information Systems, so my son and I approached the challenge the same way I would validation testing on any technical research project," Metcalf, 43, told MSN Autos. "This kept me mentally alert, as did having a good copilot, my son Adam."
Do the math and you realize there's a big caveat to this story: Metcalf averaged 25 mph. For 17 straight hours.
"We planned the route very carefully to avoid all interstates and stay on slow roads most of the time," he said. "People did pass us and some stretches were four lanes, but we had 7.5 hours where we only saw 20 cars. This was through the central and south parts of wild Florida including the Everglades and other wildlife parks."
More autos.msn.com