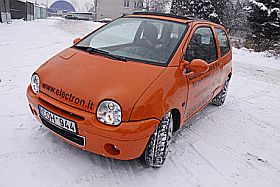 In 2012, electric car Electron Twingo was developed in Siauliai city. It was presented in the fair Siauliai 2012, reports LETA/ELTA, citing Siauliu krastas.
121227_Electron_Twingo_siaul.jpg
The quality of this car is as high as of the cars produced in factories. However, the price is much lower, it costs around LTL 30,000 (EUR 8,688).
Developer of the car, Head of PB Group company Donatas Skulskis says that this tiny car is driven by 15-kilowatt power unit and it can acquire the speed of 80 kilometers per hour. The company is planning mass production of such cars
More baltic.com