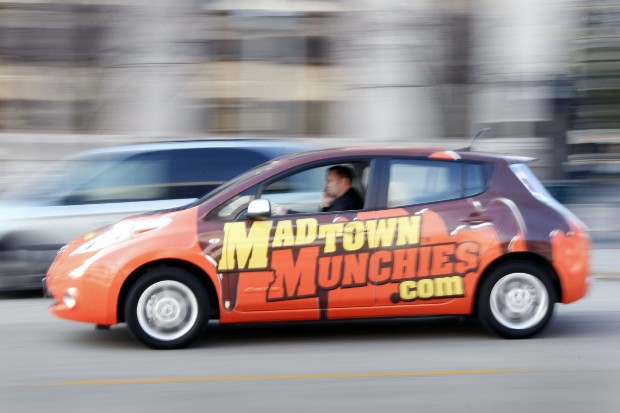 The addition of the Nissan Leaf electric vehicle to its fleet of bicycles allows Madtown Munchies to expand its delivery area beyond downtown Madison while maintaining its green priorities.
Madtown Munchies' mission is a simple but serious one: "Delivered fast … no gas."
For the first six years of the company's existence, that was an easy standard to maintain, as it satisfied the cravings of downtown Madison residents with deliveries made by bicycle.
But with demand growing for the business to expand its delivery area, the idea of adding a car to the fleet started to gain some traction. Just so long as it didn't use any more gas than the bikes.
Enter the "Munchie Mobile," a 2012 all-electric Nissan Leaf the company added to its two-wheeled fleet about a month ago.
"It was a significant investment for us," said company founder Jeremy Neren. "I wanted to hold out for something that operated like a normal car and was 100 percent electric. It was the kind of thing where we didn't want to compromise what we believe to be one of the core values of the business."
Neren, a 2005 UW-Madison graduate, started the company in 2006. The premise was to cater to the late-night urges of a predominantly student clientele by delivering a range of products from snacks and beverages (non-alcoholic) to cigarettes and condoms.
More madison.com