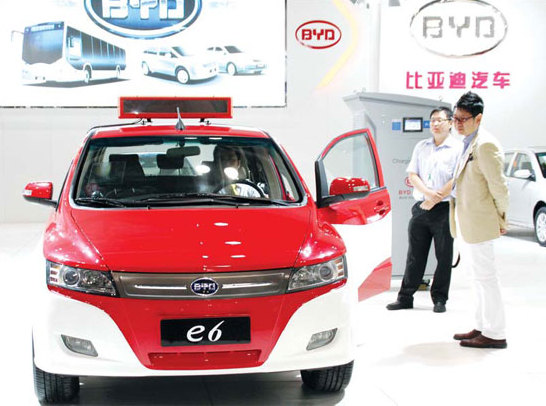 An all-electric e6 on display at an auto show in Beijing. Sales are flat among private buyers due to high prices and the lack of charging infrastructure, so BYD is using financing approaches to court bus and taxi companies. Wu Changqing / For China Daily
Touts lower running costs for electric buses and taxis
With prices high and charging facilities scarce, private demand for electric vehicles remains flat – so domestic carmaker BYD is getting creative with financing solutions to make a breakthrough in public transportation.
The Shenzhen-based company announced at a press conference in Beijing earlier this month that it will provide loans with zero down payment for companies that buy its all-electric K9 buses and e6 taxis.
The company said it expects the solution to help accelerate the "electrification of public transport", overcoming reluctance by bus and taxi companies to make the move due to high upfront costs.
The BYD e6 now has sticker price of more than 300,000 yuan, while the K9 bus sells at about 2 million yuan. Even with subsidies from both central and local governments, the prices are still much higher than conventional gasoline-powered vehicles.
To persuade potential clients, the carmaker made detailed calculations at the press conference to prove that it will be a cost-efficient deal due to low running costs with electricity. The more often and longer the vehicle drives, the more it can save, making it more appealing to company fleets than private users.
Compared with traditional gasoline-powered vehicles, an e6 taxi that uses pure electricity can save about 7,000 yuan a month, more than enough to cover monthly loan payments, said BYD.
But adding to its difficulties was the fiery crash of an e6 taxi in May in Shenzhen that raised concerns about the safety of BYD's all-electric cars. The taxi caught fire and burned out after it was hit by a sports car traveling at high speed. Three people were killed at the scene.
A panel of experts organized to study the accident later concluded that the batteries on the taxi did not explode and the design passes all required safety standards.
There are now 300 e6 electric taxis and 200 K9 electric buses running on the roads in Shenzhen. More than 500 e6s will soon be added to the fleet, according to an agreement between BYD and a local taxi company.
Earlier this year, BYD also agreed with partners to produce its electric vehicles in Tianjin and Yunnan province and supply them for use in local public transport.
More chinadaily.com