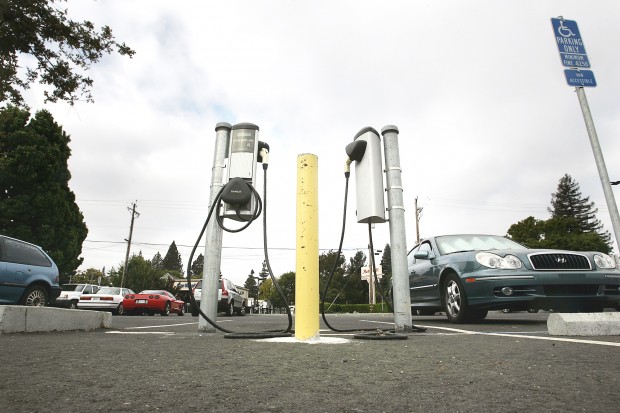 THURSDAY – OCTOBER 04, 2012 – NAPA, CA – Two car charging stations at the Park and Ride lot on Solano Avenue near Redwood Road. J.L. Sousa/Register
Napa County makes no secret of its pride to be distinct from the rest of the eight other Bay Area counties, but Napa County Supervisor Keith Caldwell wishes it could be like its neighbors in one fashion — by having more public electric vehicle charging stations.
Of the estimated 700 charging stations throughout the Bay Area, Napa County has just 12 stations available for public use. Nine are in Napa, one is in American Canyon, and the Hall Winery and the Clif Family Winery upvalley have one each, Caldwell said.
That figure may not account for all the stations, but does encompass those publicly listed by the U.S. Department of Energy.
Caldwell, who recently purchased an electrically chargeable Prius that also runs on gasoline, said he'd like to change that.
He said he's teaming with Napa Mayor Jill Techel to work on a grant application to the Bay Area Air Quality Management District to get funding to install more of these charging stations locally.
He's provided staff direction to proceed with the application, although it's still early in that process and too soon to determine how many or where they would be located. It would cost $2,000 to $3,000 per station, he said.
The Fifth Street parking garage in downtown Napa has the infrastructure in place to support one, Caldwell noted.
Karen Schkolnick, an air quality programs manager with the air district, said it has made more than $6 million available in the past several years through programs aimed at increasing the number of public and residential charging stations.
While it's not currently seeking applications for funding, the air district is using traffic data from the Metropolitan Transportation Commission to analyze potential sites for new charging stations, Schkolnick said. The goal is to complete that analysis by the end of the year, allowing the air district's board of directors time to provide direction before more money becomes available, she said.
Adding more stations in Napa County, with its heavy volumes of commuter and tourist traffic, makes sense, she said.
"There's so much traffic coming in that could be green," Schkolnick said. "I am delighted to hear they are exploring how this works. All strategies that help reduce air pollution and green house gas emissions — we want to help."
Caldwell said he charges his car overnight at his house in American Canyon, and can make it to his office in the County Administration building in Napa on a charge — his Prius gets 12 to 14 miles per charge — and part of the way home before the Prius' gasoline engine kicks in.
If he could recharge in Napa, he could make it all the way home without switching over to gasoline.
"I didn't really know the lack of locations until I bought my vehicle," Caldwell said. "Since the county of Napa has a significant amount of workers that commute into the county on a daily basis, we need a network of charging stations that makes sense."
Schkolnick said Napa's number of charging stations may trail the other Bay Area counties, but she notes it also has fewer people.
Schkolnick said that about 5,000 electric vehicles have been sold in the Bay Area in the last several years and that accounts for 10 to 12 percent of total electric vehicles sold in the U.S
More napavalleyrgister.com