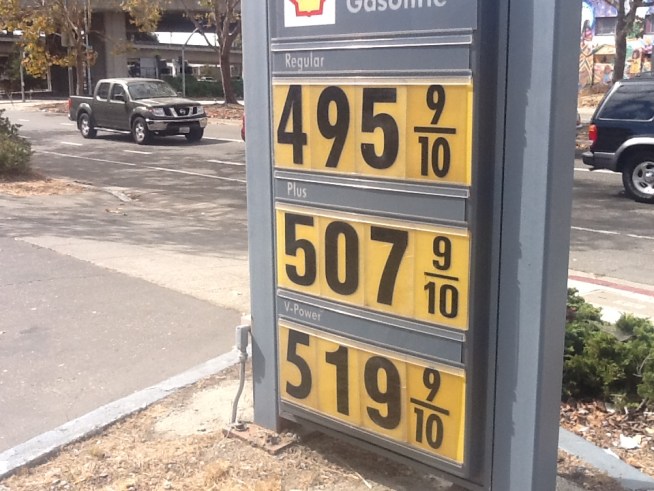 Jodi Hernandez reports from the East Bay where drivers were experiencing sticker shock at the gas pump all day long.
Bay Area drivers say the price at the pump is forcing them to rethink weekend plans.
It's a record, though just barely. The price of gasoline hit an all-time average high in California of $4.6140 a gallon Saturday, fueled by a reduced supply and a volatile market.
The record was set by a fraction of a penny, according to AAA spokesman Michael Green. The previous high was $4.6096 on June 19, 2008.
Prices throughout the state were expected to increase for several more days before leveling off, after a temporary reduction in supply triggered a price spike that saw fuming motorists paying $5 or more per gallon in some locations and station owners shutting down pumps in others.
AAA's Daily Fuel Gauge report released Saturday said the average price for a gallon of regular unleaded across California rose 12 cents from its Friday mark of about $4.49.
Saturday's price was the highest in the nation, with the Golden State leapfrogging Hawaii this week as the state with the most expensive fuel. The average price for a gallon of regular unleaded across California was 47 cents more than a week ago, according to the AAA report.
"I seriously thought it was a mistake on the sign when we pulled in," said Nancy Garcia, 34, while filling her Honda Accord at a Chevron station in the Los Angeles neighborhood of Highland Park. She paid $4.65 a gallon for regular grade and said she couldn't afford to fill her tank all the way.
When supplies drop, wholesale prices rise. Then distributors and station owners have to pay more to fill up their station's tanks. They then raise their prices based on how much they paid for their current inventory, how much they think they will have to pay for their next shipment, and, how much their competitors are charging.
The national average Saturday was about $3.81 a gallon, the highest ever for this time of year. However, gas prices in many other states have started decreasing, which is typical for October.
The dramatic surge came after a power outage Monday at a Southern California refinery that reduced supply in an already fragile and volatile market, analysts said, but the refinery came back online Friday and prices were expected to stabilize by next week.
Patrick DeHaan, senior petroleum analyst at GasBuddy.com, predicted the average price could peak as high as $4.85.
"There is some relief in sight but probably not for a couple of days. Early next week is when we may see some more significant declines … but at retail prices, prices may climb for the next two to three days before they start to come down," he said.
More nbcbayarea.com