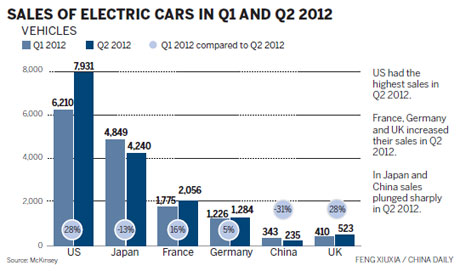 China's electric cars lag behind in global race
Updated: 2012-10-23 10:05
By Wei Tian ( China Daily)
Comments(0) Print Mail Large Medium Small
0
Sales decline sharply and market share still low, according to report
China's electric cars lag behind in global race
China's electric cars lag behind in global race
China's electric-vehicle industry is falling behind other major auto markets as sales decline sharply and market share remains low, a report by global management consultants McKinsey & Co said on Monday.
Only 235 electric vehicles were sold in the second quarter of the year in the world's largest auto market, a 31 percent drop from the 343 units sold in the first quarter, which was the sharpest decline among the world's major auto markets, the report showed.
The poor performance in China stands in contrast to the United States, where 7,931 such vehicles were sold during the same period, a 28 percent jump from the first quarter, as well as Japan's 4,240 units, France's 2,056, and Germany's 1,284.
Axel Krieger, leader of McKinsey's China Auto Hub, said the decline in China was a result of "short supply in batteries, underdeveloped infrastructure, as well as low recognition among customers".
Although McKinsey defines electric vehicles strictly as battery electric vehicles, Krieger said the result wouldn't be much affected even if hybrid electric vehicles were taken into account.
Larry Wang, a partner at McKinsey, said the sluggish sales was also partly a result of less supporting policies such as those seen during the Beijing Olympics and Shanghai World Expo.
A series of reports including a self-igniting taxi in Hangzhou and a vehicle explosion in Shenzhen have put the safety issue of new energy vehicles under the spotlight. Although no defects were found in the design and quality of these vehicles, customers' confidence was overshadowed by the accidents.
In April, the State Council approved a five-year development plan for the country's energy-saving and new-energy vehicle industry, aiming to increase the production and sales volume of battery electric vehicles and plug-in hybrid electric vehicles to 500,000 by 2015, and 5 million to 2020, in an effort to meet the country's emission cutting goals.
However, the share of electric vehicles in China remains particularly low, according to the report, with just 7,834 electric vehicles out of more than 48 million cars sold since January 2009.
The share represents only 0.02 percent of the total auto market in China, lower than that of other major markets such as 0.16 percent in Japan and 0.09 percent in the US.
McKinsey estimates that in five years, electric vehicle production is likely to exceed 270,000 units in China, but that would still be just 1 percent of the country's total car production in that year.
More chinadaily.com