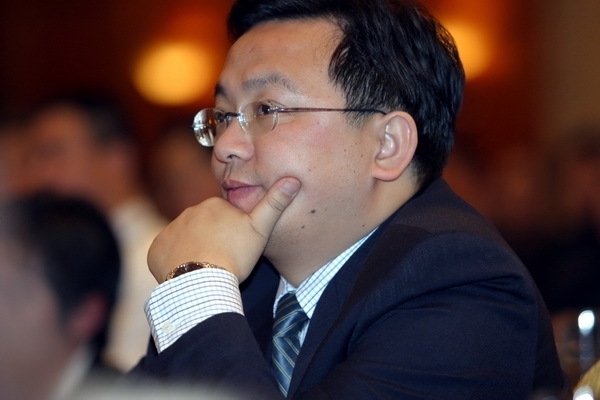 By Zhang Yaodong (张耀东)
Issue 583, Aug 20, 2012
Automobile, page 36
Translated by Zhu Na
Original article: [Chinese]
Since a high-profile accident involving one of BYD's e6 electric vehicles earlier this year, doubts have been raised about the rechargeable battery and automobile manufacturer's business model. Many have noted a contrast between now and where the company stood three years ago when Warren Buffett, the legendary American investor, bought a significant stake in the company via Berkshire Hathaway.
Responding to these doubts, Wang Chuanfu (王传福), the chairman of BYD, admits mistakes have been made but he insists that BYD has gained more than it has lost over the past three years. He spoke with the Economic Observer about where his company is and where it's headed.
The Economic Observer: There are different views about BYD batteries. Just how good are BYD batteries?
Wang Chuanfu (王传福): We have the most battery patents in the world and so far BYD has produced a total of 2.2 billion batteries. We're also one of the few battery producers in the world that hasn't had a recall.
BYD electric buses have run for one year in Shenzhen and also around the globe. It's the largest scale operation of its kind in the world. Our electric taxis have also run for almost three years with very good performance. This shows that we have strong experience and ability. Thus, Mercedes-Benz entered into a joint venture with us to make cars with batteries from BYD.
EO: How about new energy vehicles overall? Some say the gap between China and the rest of the world has actually widened.
Wang: This view isn't scientific. For example, with the electric bus, 200 have been working for a year in Shenzhen. This can't be seen anywhere else in the world.
This year Shenzhen also bought another 1,000 electric buses and announced that it won't purchase any more diesel oil or hybrid buses in the future. They'll all go in the direction of pure electric.
Of course, the sales of retail electric cars are slightly higher in Europe and America. But we believe public transportation going electric might be more urgent.
EO: Will BYD's development of new energy cars start with public transportation?
Wang: BYD's new energy car strategy will also consider private cars, but first we'll start from public transportation. This field is also what the government urgently wants to work on.
In China, there are 500,000 buses and 1.2 million taxis; all together making up only 1.7 million vehicles. This accounts for 1.7 percent of all automobiles. However, the fuel consumption of this 1.7 percent of vehicles accounts for almost 25 percent of total consumption and more than 30 percent of total emissions. The emissions and fuel consumption of one bus are equivalent to 30-40 private cars.
More eeo.com