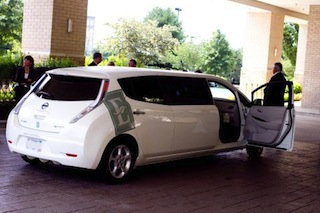 An Embassy Suites resort in Tennessee is shuttling VIPs with what it calls the world-first all-electric stretch limousine.
The upscale John Q. Hammons' Embassy Suites Nashville South/Cool Springs commissioned Imperial Coach Builders in Springfield, Missouri, to convert a Nissan Leaf into the roadworthy, 7-foot-9-inch limo.
The company added 4 feet (and 400 pounds) to the center of the vehicle, which has eight seats.
"When the idea of building an electric limousine emerged, we immediately knew it had to be a Nissan Leaf," says Bob Horner, general manager of the 250-room hotel. "Not only because Nissan North America is our neighbor and strategic partner, but also because of the vehicle's high quality and global popularity. Nissan's decision to produce the Nissan Leaf in Middle Tennessee by year-end 2012 also made it a natural choice."
More sustaniablebusiness.com