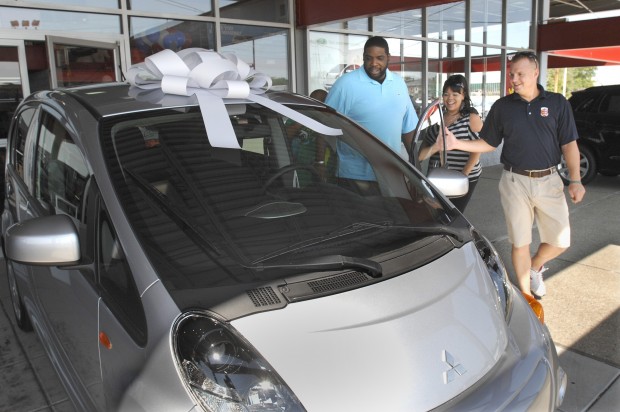 Larry Buchanan, left, and his wife, Nerissa, picked up their new Mitsubishi i as Scott Lovett, O'Brien Mitsubishi sales associate, gave them a tour of the car, Friday, August 3, 2012. (The Pantagraph, David Proeber)
8 hours ago • By Mary Ann Ford | mford@pantagraph.com
NORMAL – Nerissa and Larry Buchanan have had their share of bad luck lately.
Their garage burned down on Father's Day and recently Nerissa was diagnosed with Multiple Sclerosis.
But bad luck turned to good luck Wednesday when Nerissa happened to enter her husband's name in a drawing to win an O'Brien Mitsubishi "i" electric vehicle.
She found out Thursday that Larry's name was drawn out of the pool of about 310 registrants.
"This is awesome," said Nerissa of Bloomington. "We'll be able to get around town and not worry about gas. I'm all about recycling and we needed another car."
"It's roomier than what it looks like," said Larry, who stands 6-foot 5-inches.
The giveaway was part of an electric vehicle education expo sponsored by O'Brien Mitsubishi on Wednesday at the Marriott Hotel and Conference Center in Normal. Nerissa is a bartender at the hotel.
She wasn't aware of the expo and the car giveaway until she went to work that night. She decided to enter but used her husband's name because she didn't know if hotel employees were eligible.
Nerissa said she knew Wednesday night that someone named Larry had won but never dreamed it was her husband. Thursday a friend from work called and said they thought the winner was Larry Buchanan. She called Ryan Gremore, general manager and part-owner of O'Brien Mitsubishi, and found out it was true.