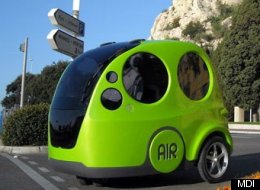 If you're one of the increasing number who has splashed out on a hybrid or even fully electric car, then good for you.
But unfortunately you're already behind the curve.
Indian car manufacturer Tata is currently developing a car powered by nothing but compressed air.
And after a wave of blog posts hit the internet on Monday about the vehicles, you'd be forgiven for thinking we're closer than we were on Friday to seeing them on the roads.
Unfortunately that's not the case. But the tech is still really interesting – and hopes are high it could make a difference in congested cities where space (and fuel) is at a premium.
Tata's high-tech 'AirPod' is being build with the help of MDI, a Luxembourg-based company which has been pushing the compressed air engine for years.
The idea is that the car pumps air into the tank via an electric engine or a charging station, and can run at speeds up to 43mph. It's already being hailed by tech blogs as a potential hit in Tata's home country, where the theory goes that the smaller, lighter and more environmentally friendly AirPod could provide a green and inexpensive way for India's growing middle class to get around.
MDI says:
"With small size, a tiny price, zero pollution, fun and futuristic design, AIRPod mark a turning point in the range of urban vehicles while renewing the idea of the automobile and transportation. You can drive with a joystick, it only costs one euro per 200 km and leaves no one indifferent in crept in traffic.
It is a real breath of fresh air in our cities and the prelude to travel without pollution. Its small size make it easy to park, keeping still a large internal volume. AIRPod help us to forget the price of petrol."
More huffingtonpost.com