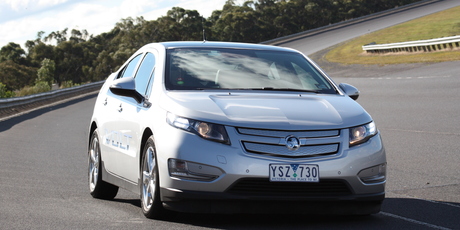 The slightly pre-production Holden Volt at the company's Lang Lang Proving Ground in Victoria. Photo / Matt Greenop
The zero-emission vehicle market is about to get a big new player, as Holden readies to launch General Motors' highly successful Volt in New Zealand towards the end of the year.
It's a whole different prospect to what's currently on the market, combining petrol engines and electric motors in a way that doesn't sacrifice range and still manages to run on almost nothing.
It appeared on American and European roads to great fanfare last year wearing Chevrolet Volt and Opel/Vauxhall Ampera badging respectively and has proven a huge success, garnering more than a few shiny accolades for the corporate trophy cabinet and selling in good numbers.
This adulation was a far cry from the brutal skewering that its electric reputation got following Chris Payne's documentary Who Killed the Electric Car? The film details how GM systematically destroyed its lease fleet of EV1 electric cars after removing them from owners. So the company needed to get its next foray into the future right first time.
It has certainly done that – mainly because the Volt is something a bit different – it's not a hybrid, which still needs filling up, albeit not that often; and it's not a traditional electric car either, with their generally terrible range.
The Volt has both an electric motor and a petrol engine, like a hybrid, but unlike one it uses the 1.4l to charge the battery. It can be charged at home through an ordinary 10amp powerpoint in five to six hours or fast with an optional heavy duty charger.
Petrol is essentially only used to feed the back up generator, so theoretically with low mileage and the benefit of a regenerative braking system also topping up the 200kg battery, you could go without fossil fuel for quite some time. Even if you never engage the range extender at all the car will still use fuel, as it starts its own engine every 42 days for self-maintenance, getting up to normal running temperature and staying there for ten minutes before switching off again.
More nzherald.co.nz