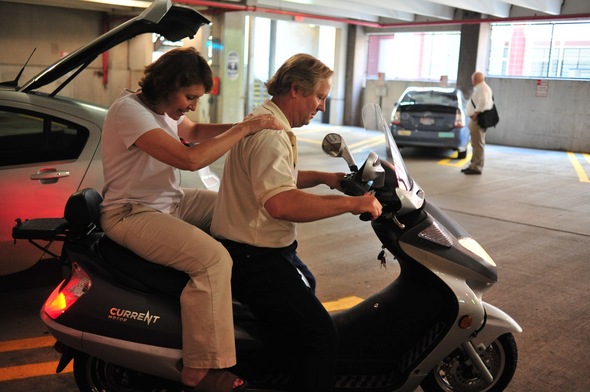 Terry Richards, Current Motor's director of electric vehicle technology, takes Ann Arbor Downtown Development Authority Director Susan Pollay for a spin on Tuesday afternoon after charging at one of the new electric vehicle charging stations in the Forest Avenue parking structure.
Three years after assembling its first electric scooter in a small shop just outside of Ann Arbor, Current Motor Co. is poised to grow beyond Washtenaw County's borders.
With its first major showroom opening in downtown Chicago in another month and a half, the company has come a long way from meager beginnings in Scio Township.
"We were in our small shop back then. Since then, we've got 34 of those scooters actually sold and on the road," said Terry Richards, the company's director of electric vehicle technology.
And the company is looking to sell a lot more in the near future.
One of downtown Ann Arbor's new electric vehicle charging stations at the Forest Avenue parking structure.
Ryan J. Stanton | AnnArbor.com
Richards said it helps that perceptions about electric vehicles are changing, and the right infrastructure is starting to be put in place to accommodate them.
Richards was on hand earlier this week as the Ann Arbor Downtown Development Authority and Ann Arbor-based Clean Energy Coalition celebrated the recent installation of 18 new electric vehicle charging stations at parking garages in downtown Ann Arbor.
"We're thrilled to death to see these charging stations," Richards said. "Because now we're going to go back home, we're going to go on our website, and we're going to put out the word that, yes, there are 18 charging stations here in Ann Arbor that these things can plug into."
More annarbor.com