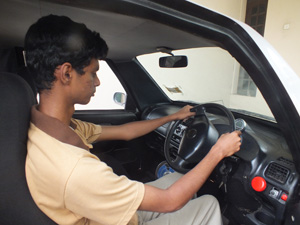 A fully electric-turbo car designed and manufactured by a youthful Sri Lankan entrepreneur-technologist – 26-year-old Nilanga Senevirathne of Kalubowila – is likely to capture not only the local market, but the international market too.
Nilanga at the wheel of his creation. Pix by Quintus Perera
The "Elca" (Electric Car) is apparently extremely economical in both purchase price and running cost and the model would be universally acceptable as the car is totally environmentally friendly. The Business Times (BT) met Mr Senevirathne at his residence and watched with awe his invention – completely done by him alone, manufactured with 60% of local material. A great lover of the nature and environment, his intention also is to go into fully green production and his electric car is indeed compatible to his love of the nature.
Over a cup of tea he told the BT that the average 4-seat cars that are available in Sri Lanka would cost around Rs 1.4 million but his Elca electric-turbo car when it is marketed would cost only half the price at Rs 0.7 million and the cost per kilometer would be around Rs 3 whereas the conventional 4-seat cars running cost per km would be around Rs 11.
He said that he has already received inquiries from around 18 different countries to purchase his cute 'Elca', while local inquiries are flowing in. Mr Senevirathne said that all the steps to market the product is complete and he has already earmarked a 5,000 sq ft factory located in the Kalutara Industrial Estate. Preliminaries have commenced to start manufacturing the vehicle with commercial operation taking around one year.
Elca has now been registered with the Registrar of Motor Traffic and a chassis number was given by RMV for his already manufactured car. An old boy of Thurstan College, Mr Senevirathne after his A' Levels moved to Swinburne University, Malaysia to study Robotics and Negatron but at the half way stage moved to Coventry University, United Kingdom. He said that the locality in which this university is located is also the home for many vehicle manufacturing firms in the UK.
More sundaytimes.lk