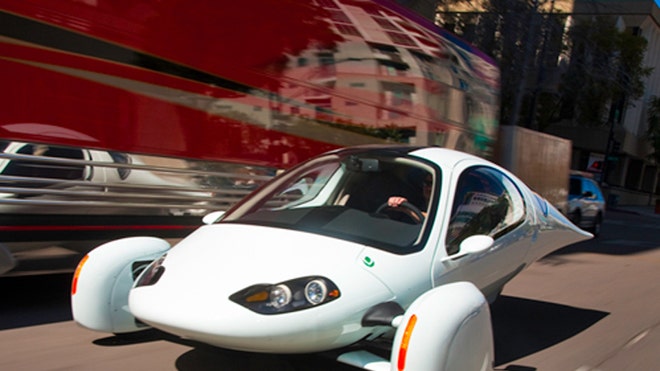 It looks like an airplane without wings and has had some trouble getting off the ground, but the Aptera 2e may finally be ready for liftoff.
The ultra-aerodynamic electric vehicle promised to deliver the equivalent of more than 200 MPG, but the company behind it ran out of money before it could put it into production.
California-based Aptera Motors went out of business last year after being denied a $150 million loan from the Energy Department to develop the 2e, along with a four-door battery-powered car reportedly good for 190 mpg, which would sell for $30,000.
The 190 MPG Aptera electric car that never was
Now a newly formed company, backed by a Chinese investor, has purchased most of the assets of Aptera Motors and says it will start selling the 2e next year.
In a deal facilitated by Santa Rosa, Calif., real estate developer Rick Deringer, Chinese auto and motorcycle company Jonway Group and several American minority investors have formed Aptera USA, a California-registered entity with plans for a pan-Pacific assembly line for the 2e.
The composite body of the 2e will be manufactured at a Jonway facility in China, then shipped to a Santa Rosa assembly plant where American-sourced Remy electric motors and batteries from A123 systems will be installed. Another Jonway electric car subsidiary, Zap Jonway, rents space in the same Santa Rosa development.
The system is similar to that used by another California startup electric car company, Coda Automotive, which also imports chassis from China and completes assembly at a facility in Benicia, not far from Aptera USA's Santa Rosa headquarters.
Pricing for the 2e has not yet been determined, but Deringer tells FoxNews.com that the company could manufacture as many as 25,000 of the vehicles next year. Derringer says Aptera USA will not be seeking any government assistance to help fund the company.
Technically a motorcycle, the three-wheel 2e seats two with a large luggage area in its tapered tail and has an estimated range of more than 100 miles per charge. Deringer plans to open a retail site near the Santa Rosa factory and follow the marketing model of electric car company Tesla by setting up showrooms in shopping centers around the country, starting in California.
More foxnews.com