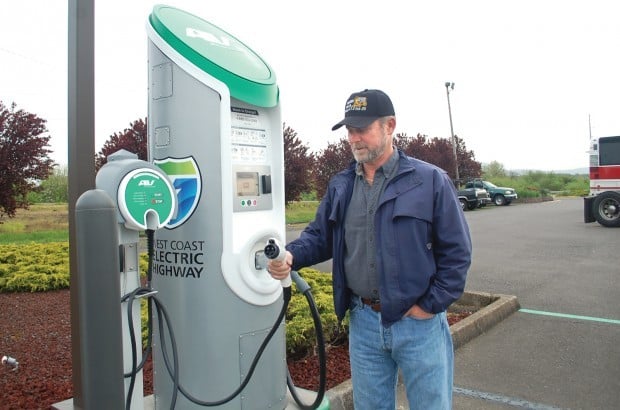 Drivers can charge their electric vehicles' batteries in fewer than 30 minutes at the new AeroVironment charging station at Pioneer Villa Truck Plaza, according to owner Greg Moore. (Alex Paul/Mid-Valley Sunday)
HALSEY — Drivers using the new electric vehicle charging station at the Pioneer Villa Truck Plaza are "eclectic … like a club," according to owner Greg Moore.
On a recent Friday, three or four drivers used the AeroVironment Inc. charging system installed recently by the Oregon Department of Transportation, Oregon Department of Energy and Pacific Power.
"It seems like the electric vehicle owners have their own network," Moore said. "It's kind of like they're on a treasure hunt or a voyage, seeing how far they can go and mapping out where the charging stations are."
The goal of the program dubbed the West Coast Electric Highway is to have charging stations spaced about 25 miles apart from the California-Mexico border to Vancouver, B.C., Moore said.
As of February, there were 1,221 all electric vehicles registered in the state — out of more than 3.26 million total passenger cars and trucks — according to ODOT.
"ODOT and everyone else has been great to work with," Moore said. "They wanted a 30-year lease, but we opted for three five-year leases to start. Who knows, if electric vehicles get really popular, maybe we'll have several charging stations."
Moore said the truck plaza offers an excellent location for a charging station. It's on exit 216 that connects Highway 228 with Interstate 5 and has both a motel and full-service restaurant. Drivers can spend the night or just pull off the interstate and have a cup of coffee or a meal while their vehicles' batteries are charging.
Moore said the unit provides two charging options — slow, taking a few hours, or fast, taking fewer than 30 minutes.
More democraticherald.com