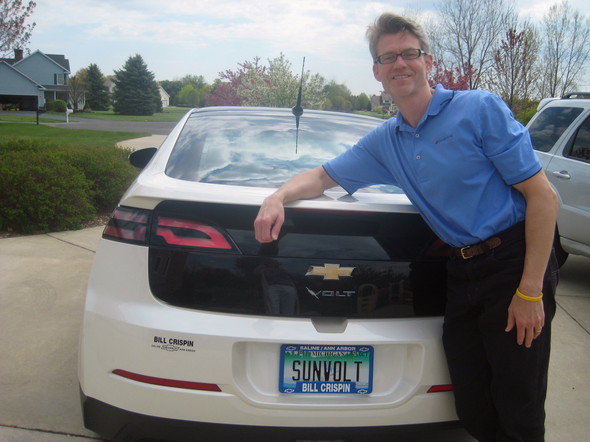 It's been a year since Mark Hildebrandt and his wife, Lorna, picked up their Chevy Volt — the very first Volt sold in Washtenaw County.
His verdict? It's been an amazing ride.
"It's so unlike your typical ride —so silky smooth, so fun to drive," says Mark Hildebrandt, who admits he was taken back at first by how eerily quiet the car is to drive. "People think of electric vehicles like golf carts and it's not at all like that."
[ University of Michigan Credit Union – Why pay more for banking? ]
The Hildebrandts only took the Volt to the gas station three times over the past year for a grand total of 29.7 gallons of gas. "My wife really appreciates that — especially at $4 a gallon," says Hildebrandt.
Because of its instant torque without the ramp-up of a gas engine, acceleration has not been an issue, says Hildebrandt. He drives the Volt at regular highway speeds with no problem accelerating into traffic on entrance ramps or passing other vehicles.
To date, General Motors has sold more than 11,000 Volts, said GM spokeswoman Michelle Malcho. The vehicle had its best month yet in March with over 2,300 Volts sold nationwide.
Michigan is one of the top five states for Volt sales, with California leading the pack, thanks to high sales in San Francisco and Los Angeles.
Hildebrandt says it costs 25 cents or less of electricity to fully charge the car.
"Our owners have driven more than 25 million (electric vehicle) miles," says Malcho. "Our owners are driving more than 900 miles in between visits to the gas station."
She adds that Volt owners tend to be early adopters who want the "latest and greatest" in technology.
Hildebrandt, who bought his vehicle from Bill Crispin Chevrolet in Saline, embraces alternative energy as a way of life.
He sells solar electric systems through his business Sunventrix Solar Co., and is 100 percent solar-powered at home. Therefore, solar is powering the car as well. Last year, the cost to charge his car was $517 for the entire year, including electricity, gas and solar electricity costs.
The range-extending gasoline engine on the Chevy Volt — which kicks in after the driver has exhausted the battery range of roughly 40 miles — means Hildebrandt has never worried about getting stranded. On the occasions when he goes into Detroit to visit a client, which is a 120-mile round trip, he can make it there and back without having to stop and charge somewhere. The extended range of this hybrid element has been a "perfect blend, a great bridge technology," says Hildebrandt.
"I want to use as much electricity as possible, but there are times when that's not totally possible," he says. "You hardly even know the gas engine kicks on. The only reason you know is that you are so used to hearing nothing and then you hear a regular gas engine."
Sometimes when he is driving a longer distance, such as visiting his parents, he will plug in his charger once he arrives at their house to maximize his electricity use for the trip back. "We're talking about 25 cents or less of electricity to fully charge a car," says Hildebrandt.
Although he hasn't had to make much use of them, there are charging stations in downtown Ann Arbor, as well as Saline, Dexter and Chelsea. "The one at DTE (in downtown Ann Arbor) is great after-hours," says Hildebrandt. "If you're going out to eat or doing some shopping, by the time you get back it's charged and ready to go."
Although the couple tries to use the Volt as much as possible due to the gas savings, they still use their other car —a GMC Acadia — when they travel up north with their fully loaded car. "We have two kids, golf clubs, and for us as a family, everything can't fit into the Chevy Volt." he says.
Otherwise, the hybrid works well for his lifestyle as he works out of a home office and usually drives less than 40 miles a day. Each day, he plugs the car into a 220-volt charger in the garage, which fully charges the car in about three and a half hours.
Weather does affect the battery's efficiency and therefore its range, says Hildebrandt.
More annarbor.com