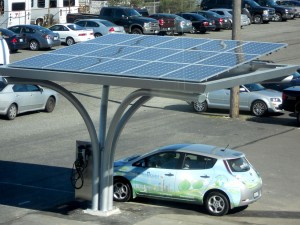 TILLAMOOK – The city council has approved a contract with EV4, a Portland-based company that wants to install a charging station for electric cars in Tillamook. Unlike most charging stations in the state, the EV4 station will be capable of "fast charging" electric cars in less than an hour. Plugged into a normal outlet, electric vehicles can take 10 hours to charge.
Tillamook will be the first city on the Oregon coast to have a fast charging station. The Portland area currently only has three fast charging stations.
Installation of the station could begin in just a couple months.
The EV4 station will include a canopy with a large solar panel on it, capable of generating about enough electricity to charge one electric vehicle each day. The station will also be connected to the electric grid, and will sell power back to the grid if it is not used.
In January, the city approved negotiations with EV4, a company that designs, manufactures, installs and maintains solar-powered charging stations. Since then, a second company, Cascadia PM, has also approached the city and asked to lease public parking spaces for a charging station.
In the contract, which was unanimously approved by the city council March 5, EV4 has offered the city five percent of revenues from the station starting in its third year of operation.
Hans van der Meer, president and co-founder of EV4, said the cost of the station is $185,000, but his investor gets a large number of state and federal tax write-offs – so the real cost is closer to $45,000.
Van der Meer said station is designed to last for 20 years.
More tillamookheadightherald.com