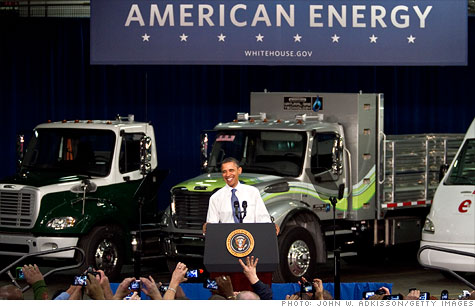 Speaking at a Daimler truck factory, President Obama proposed a broad set of intiatives for alternative-fuel vehicles.
NEW YORK (CNNMoney) — President Obama outlined new plans Wednesday to support the sales and use of alternative-fuel vehicles — including cars and trucks that run on hydrogen and natural gas instead of just those that run on electricity.
The plans are part of a $1 billion National Community Deployment Challenge intended to support the use of natural gas and other alternative fuel technologies, in addition to plug-in vehicles. The president also announced separate incentives to encourage individuals and businesses to purchase alternative-fuel vehicles.
The president proposed increasing the current $7,500 tax credit for advanced technology vehicles to a maximum of $10,000. The credit would also be broadened so that it applies to more different types of vehicles instead of just plug-in cars, as it does now.
"This is good news for any manufacturer who's taking a portfolio approach [to alternative fuel vehicles]" said John Hanson, a spokesman for Toyota.
Toyota (TM) has been working on hydrogen fuel cell vehicles as well as plug-in cars, and plans to have some hydrogen cars on the market within the next few years.
More cnn.com