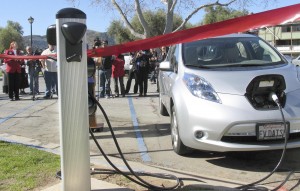 A Nissan Leaf gets its battery charged from a newly installed station as public officials speak to a group of about 40 people who gathered Thursday morning in the parking lot of the Solvang Veterans Memorial Building.
Drivers of electrical vehicles are now able to plug in at three public charging stations in Solvang, the first to be installed in Santa Barbara County through a public-private partnership intended to encourage the use of electric cars.
Hybrid gasoline-electric vehicles have all the range of a gasoline engine, but some purely electrical vehicles can go no more than 70 to 100 miles without recharging.
More santamariatimes.com