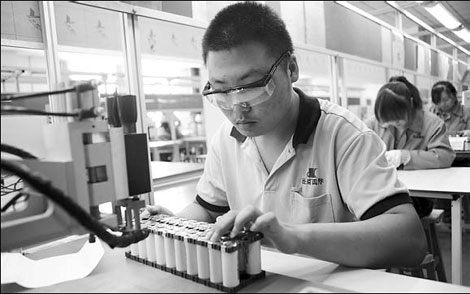 A worker assembles lithium ion batteries in Tianjin. The average annual growth rate of lithium carbonate use in China is about 25 percent, mainly driven by mobile phones and other electronic devices. Keith Bedford / Bloomberg
The Australian lithium start-up Galaxy Resources Ltd plans to invest in the production of batteries for electric bicycles in the Chinese market, a sign that foreign companies see opportunity in the mainland's growing industry of new energy vehicles.
The company invested $A100 million ($105.6 million) to build a lithium carbonate plant, which started production on Wednesday in Zhangjiagang, Jiangsu province. The new plant has an annual production capacity of 17,000 tons of lithium carbonate, the largest in the Asia-Pacific region so far.
Galaxy already has 34,000 tons of spodumene, a source of lithium, stockpiled at the Jiangsu Lithium Carbonate Plant and another 20,000 tons at a nearby port.
Lithium carbonate is used in lithium-ion batteries, which in turn go into mobile phones, computers and electric vehicles.
"The growing number of electric bicycles in China will create huge demand for lithium batteries," said Iggy Tan, managing director of Galaxy Resources.
He said that 20 million to 30 million electric bicycles are sold in the nation annually, and more than 90 percent of them use lead-acid cells. Only 3 percent use lithium batteries, which demonstrates the huge potential for growth.
The average annual growth rate of lithium carbonate use in China is about 25 percent, mainly driven by mobile phones and other electronic devices.
More chinadaily.com