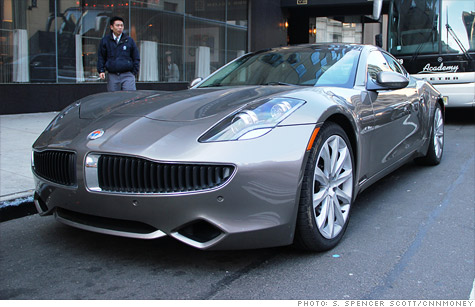 The Department of Energy has cut off Fisker's loans but analysts don't expect the electric carmaker to crash and burn.
NEW YORK (CNNMoney) — When Fisker Automotive announced it was laying off about two dozen workers at its Delaware factory, comparisons arose to Solyndra, the solar cell manufacturer that went bankrupt despite billions of dollars in U.S. government help.
Yes, the California based electric car maker and Solyndra both got a lot of government assistance, but analysts say those comparisons are unfair and premature.
The DOE had agreed to lend Fisker $529 million, and the carmaker had gotten $193 million of that before funding was cut off in May.
The company said it was cut off because it failed to meet production milestones for the Karma, a luxurious "range extended electric car," similar in nature to the less opulent Chevrolet Volt. But production is now underway and the Karma is on sale with prices starting at $103,000.
"Bringing a new car to market isn't easy and we missed some milestones," said Fisker spokesman Roger Ormisher.
More cnn.com