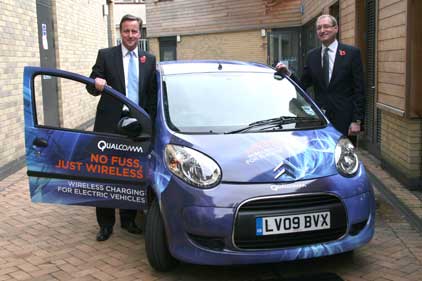 A global technology giant that is bringing electric hire cars to London has appointed its first UK PR agency to support the drive.
David Cameron: at the Qualcomm initiative launch
Qualcomm has called in AxiCom to handle the launch of its recently announced wireless electric vehicle-charging initiative.
The UK project is in partnership with the Government, the Mayor of London and Transport for London, and will offer electric cars on short-term loans, similar to the Barclays-sponsored 'Boris Bikes' scheme. Qualcomm's initiative was announced in November at a Tech City event attended by the Prime Minister David Cameron.
Cars will be charged by Qualcomm's wireless technology, meaning that the driver simply parks the vehicle in a designated bay and inductive power transfer plates in the ground power it up. The trial, which will start in 2012, will involve 50 electric cars and be based initially in Tech City around London's Silicon Roundabout in Old Street, east London.
More prweek.com