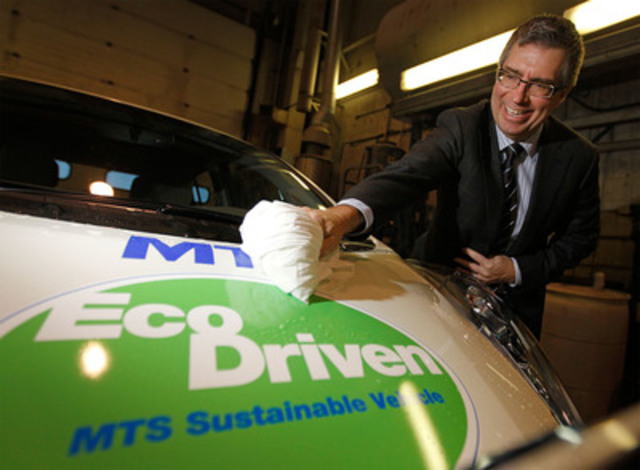 WINNIPEG, Dec. 22, 2011 /CNW/ – As a leading adopter of new and innovative technologies, MTS is pleased to add two zero-emission battery-powered Nissan Leaf electric cars to the eight environmentally friendly hybrid vehicles it already owns. The Nissan Leaf was recently named the 2011 World Car of the Year at the New York International Auto Show, and is the world's first affordable mass-market, all-electric vehicle. There are currently only four Nissan Leaf cars in Manitoba and 111 in Canada.
"MTS is proud to have our name on these innovative and environmentally friendly cars," said MTS President, Kelvin Shepherd. "When you see a vehicle branded with an MTS Sustainable Vehicle decal on the road you'll know this is a vehicle that is helping to reduce greenhouse gas emissions in Manitoba. The cars also benefit the economy by replacing fossil fuel with locally produced clean and renewable energy."
Replacing older and larger fuel consuming vehicles with fuel efficient and lower emission vehicles is in keeping with MTS Allstream's Green Plan, including a Greenhouse Gas (GHG) reduction target. The Company plans to reduce its absolute GHG emissions by 20 per cent by 2020, starting from a 2008 baseline of 17,326 total tonnes of GHG emissions.
MTS Allstream's complete 2010 Green Report is available at www.mtsallstream.com. The report documents facts and perspectives on the Company's environmental performance over the past several years and its green priorities going forward.
About MTS
MTS is a division of MTS Allstream Inc., a wholly-owned subsidiary of Manitoba Telecom Services Inc. As one of Canada's leading national communication solutions companies, MTS Allstream provides innovative communications for the way Canadians want to live and work today. The Company has more than 100 years of experience, with 5,500 employees across Canada dedicated to a mission of delivering true value as seen through the eyes of our customers. MTS Allstream has nearly two million total customer connections spanning business customers across Canada and residential consumers throughout the province of Manitoba. The Company's extensive national broadband and fibre optic network spans almost 30,000 kilometres. Manitoba Telecom Services Inc.'s common shares are listed on Toronto Stock Exchange (trading symbol: MBT). Customers, stakeholders and investors who want to learn more about MTS Allstream are encouraged to visit: www.mtsallstream.com.
Forward-looking Statements Disclaimer
This news release includes forward-looking statements and information (collectively, the "statements") about our corporate direction, business opportunities, operations, financial objectives, planned activities, future financial results and performance that are subject to risks, uncertainties and assumptions. As a consequence, actual results in the future may differ materially from any conclusion, forecast, anticipation or projection in such forward-looking statements. Examples of statements that constitute forward-looking information may be identified by words such as "believe", "expect", "project", "should", "anticipate", "could", "target", "forecast", "intend", "plan", "outlook", "see", "set", "pending", and other similar terms.
Factors that could cause anticipated opportunities and actual results to differ materially include, but are not limited to, matters identified in the "Risks and Uncertainties" section and elsewhere in our most recent annual MD&A and any subsequent quarterly MD&As, as well as our most recent Annual Information Form, all of which are available on SEDAR at www.sedar.com.
Please note that forward-looking statements reflect our expectations as at the date hereof. We disclaim any intention or obligation to update or revise any forward-looking statements, whether as a result of new information, future events or otherwise except as required by law.
Image with caption: "Kelvin Shepherd, President, MTS, polishes the latest addition to the Company's fleet of green vehicles. As a leading adopter of new and innovative technologies, MTS is pleased to add two zero-emission battery-powered Nissan Leaf electric cars to the eight environmentally friendly hybrid vehicles it already owns. (CNW Group/MTS Allstream Inc.)". Image available at: http://photos.newswire.ca/images/download/20111222_C9031_PHOTO_EN_8483.jpg
For further information:
Media:
Jessica Poitras
Corporate Communications
(204) 941-7823
media.relations@mtsallstream.com
Source newswire.ca