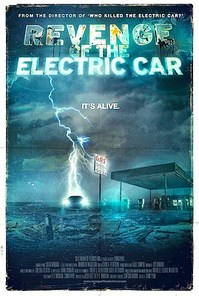 Documentary filmmaker Chris Paine first got people talking in 2006, when "Who Killed the Electric Car?" hit theaters. Telling the story of GM's EV 1—an electric vehicle created, and then destroyed, in the mid-90s—the film explored the reasons behind, and the parties involved in, the car's mysterious disappearance.
Since then, our economy, and the auto industry, have both changed significantly, however, and hybrid and electric cars are now being produced by a number of automakers. Paine's newest film, "Revenge of the Electric Car," focuses on four men on the front lines of this recent development, including former GM vice chairman Bob Lutz, who will join Paine for a Q&A on Sunday night, following an 8 p.m. screening at the Michigan Theater. Paine will also answer questions after the 7 p.m. screening at the Michigan Saturday night.
Paine answered some questions from AnnArbor.com:
[ $10,000 of FREE groceries sound good? | No purchase necessary. Your chance to win ]
Q. What initially prompted you to revisit this subject?
A.
We just got access to some amazing stories … that I never expected to get acess to. A Steven Jobs-type guy at Tesla, and then an old-guard Detroit leader, and they both happened to be developing plug-in cars at a time when I thought that the battle was lost in the short term. And I thought, "Well, how often does this happen? Let's go."
I think we were also sort of shocked that the industry as a whole was changing their tune about this—which is exactly what we were hoping would happen after the first film, but I didn't really expect it. Usually, you bang the drum, and not a lot of people are listening. And this time, I think a lot of people pressured the industry, and gas prices hit $4 a gallon, and a coalition of the right and the left began to say, "Hey, we can't live on this oil thing forever." And then, the technology leaped forward, so that the cars were able to compete with gas cars on a serious level. So game on. Let's make a movie.
Q. What role do you think your first film played in sparking a change?
A.
I think public pressure on the car industry was a factor, and our film probably played into that. I know that we got a lot of emails from people working at car companies that said, "Hey, they're passing your film around. People are talking about it. Don't count the electric car out, it might be back."
More annarbor.com