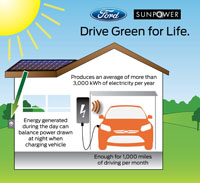 Critics say that electric vehicles (EVs) are as clean as the energy used to power them. There is some truth in that, although others have countered saying EVs are greener, regardless of the source of energy they draw from. But what everyone agrees on is that solar is the most sustainable fuel type for these vehicles, which have gained popularity since the launch of models such as Nissan's LEAF and the Chevy Volt.
Ford also has an EV model, called Focus Electric, which it hopes will help the company stake out its presence in this growing sector. To promote the model it has teamed up with solar company Sun Power to boost its sustainability credentials.
Together the companies have launched the Drive Green For Life program whereby Focus customers can purchase a powerful rooftop solar system to generate alternative energy for their car and offset the electricity used to charge the vehicle.
The 2.5 kilowatt system can produce an estimated 3,000 kilowatt hours of electricity annually and come with a 25-year warranty.
"It's an eco-friendly solution that perfectly complements our plug-in products and other green initiatives", said Mike Tinskey, director of Global Vehicle Electrification and Infrastructure at Ford.
More justmeans.com