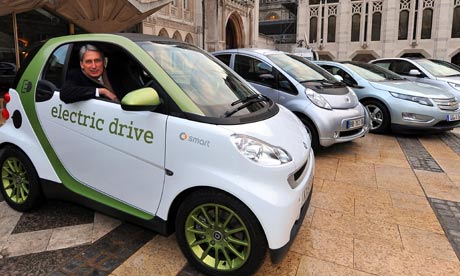 An electric car – a Smart fortwo – in London, with transport secretary Philip Hammond at the wheel. Photograph: Clive Gee/PA Wire/Press Association Images
London made a significant step towards becoming the "electric car capital of Europe" with the launch of a new scheme that adds 150 charging points in the city.
The creation of the first capital-wide charging network is an attempt to quash fears of "range anxiety". The take-up of motorists looking to switch to electric cars has been partly hampered by the fear that batteries will need recharging after around 100 miles of driving.
The mayor, Boris Johnson, said: "I want to rapidly accelerate the uptake of electric vehicles and make London the epicentre of electric driving in Europe."
The opening of the Source London scheme means there are now around 400 points in the city, a increase on the roughly 250 previously available to drivers. Ultimately, the plan is to have 1,300 points by 2013, or no more than one mile from every Londoner.
Johnson added: "One of the biggest hurdles to greater use of electric vehicles has been a lack of charging points. But now Londoners will see Source London points popping up in locations all over the capital. By giving increasing numbers of drivers the confidence in electric vehicle technology we will make a considerable contribution to improving our air quality and cutting carbon emissions."
More guardian.co.uk