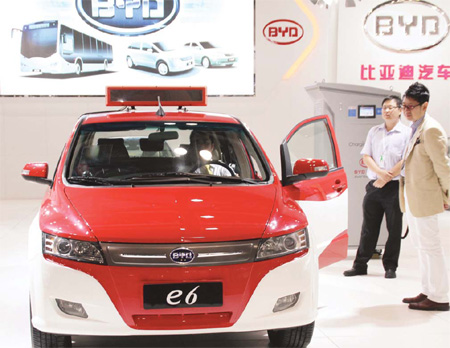 While BYD has positioned itself for a future in electric cars, analysts say the company needs to invest more in conventional vehicles to meet current competition. Wu Changqing / for China Daily
Former mainstay models falter, but market not yet ready for its electric cars
BEIJING – Chinese car and battery manufacturer BYD Co is reporting an 89 percent fall in first-half net income due to sluggish sales.
The Shenzhen-based company had just 275 million yuan in net income in the first six months of this year compared with 2.4 billion yuan a year ago.
Its vehicle sales between January and June dropped 23 percent from a year earlier to 222,000 units.
The company said that expiration of government incentives for small cars and increasing competition are the main reasons for the sales plunge.
Yet analysts point out that it is also a result of BYD's "blind pursuit of sales expansion" in the past few years and high inventory at its dealerships.
Exulting in explosive growth from 2005 to 2009, the company last year expected to continue the momentum and double its sales to 800,000 units, but eventually wrapped up the year with 520,000 cars delivered.
In the middle of last year, a number of BYD dealers quit the company's network due to stagnant sales and high inventories. The company later admitted its expansion was too rapid and began to trim the bulky network.
BYD's chairman Wang Chuanfu told a press conference last week that the company has cut the number of dealerships to about 800 from more than 1,000 at the peak of expansion.
BYD should move to slower, more stable growth, said Zhang Xin, automotive analysts at Guotai Jun'an Securities.
In addition to problems with its sales network, BYD's aging models – the former best-selling F3 and F0 – have faltering competitiveness, analysts said.
BYD's F3 compact used to be the best-selling car in China due to its pleasing exterior and attractive price, but now faces fierce competition from similar products made by domestic counterparts, said Lin Huaibin, an auto analyst at consultancy IHS.
Lin said BYD's sales are unlikely grow significantly in the coming months. In fact he predicts a contraction in the company's full-year sales compared to 2010.
Like most domestic automakers, the majority of BYD's lineup is low-cost models, which already have the lowest profit margin of any segment.
More chinadaily.com