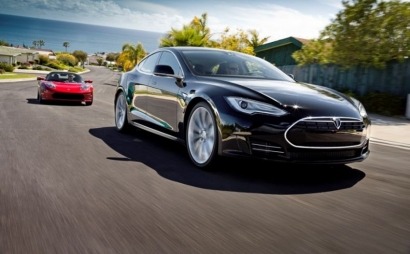 When the word "transition" is used in the lead of a business news story, no doubt the expectation in the reader's mind is that the subject of the piece is somehow on the ropes, and more than likely, one management team is being replaced by another.
But that's not so when it comes to Tesla Motors Inc., the Silicon Valley-based firm currently best known as manufacturer of Tesla Roadster, a high end, all-electric sports-car blessed with the ability to go from zero to 60 miles per hour in just 3.7 seconds and a range greater than 200 miles on a single charge.
Since its debut in early 2008, more than 1,650 Roadsters have been sold in the US, Canada, Europe and Asia – a very respectable total for a boutique firm selling a cutting-edge vehicle with a price tag starting at $109,000.
By the end of this year, the trail-blazing auto will be sold out in North America, with deliveries slated to continue through the end of the 2012 in Europe and Asia.
Taking its place on Tesla's product sheet is the Model S, a zero-emission premium sedan that will be built in a 350,000 square-foot facility in Fremont, Calif., that was formerly owned as a joint venture by Toyota and General Motors.
Production of the Model S, which will retail in the US starting at $49,900 after a federal tax credit and will cost slightly more elsewhere, will require Tesla Motors to dramatically increase its workforce while exponentially ramping up its production activities.
According to Tesla spokeswoman Camille Ricketts, the company will produce 5,000 of the new sedans in 2012 alone, and ultimately will expand production to about 20,000 vehicles a year.
"Our co-founder [and current CEO] Elon Musk is famous for saying that he's not going to stop until every car on the road is an electric vehicle," Ricketts.
"We've always had a vision that was broad and ambitious, and I think what's really happening here is that we're growing into that vision at this point," she continued. "Given the styling of the Roadster, which features a body custom built for us by the Lotus Group, and its price tag, it kind of targeted its own market.
"The Model S is going to be different," Ricketts said. "It's going to be for families and a more mid-market type of audience, and I think it is representative of the very, steady growth that we've experienced as a company."
"I don't think it's a matter of our culture really changing," she said to an inevitable early question. "I think since our founding in 2003 we've always been about being hard working and being ambitious. However, I think what you will see in the months ahead, is our inviting more and more talented people to come work with us, so that we can remain as fast and nimble as we possibly can."
More renewableenergymagazine.com